At Nomad Health, the key to a speedy application process is your Profile. The more complete your Profile is, the faster it will be to apply. Once you enter your information, it will be securely saved, so you can send in your application in a few clicks. Make sure your information is up to date before applying.
How to create a Nomad Health profile
Navigate to Nomadhealth.com and select the button labeled "Join Us."

Once you have registered, you will have access to your personal Profile homepage, where you can search for and save jobs, keep track of your applications, and update your information.
To make updates to your Profile, click on the Profile from the top right menu dropdown or by clicking directly on your

Profile page

.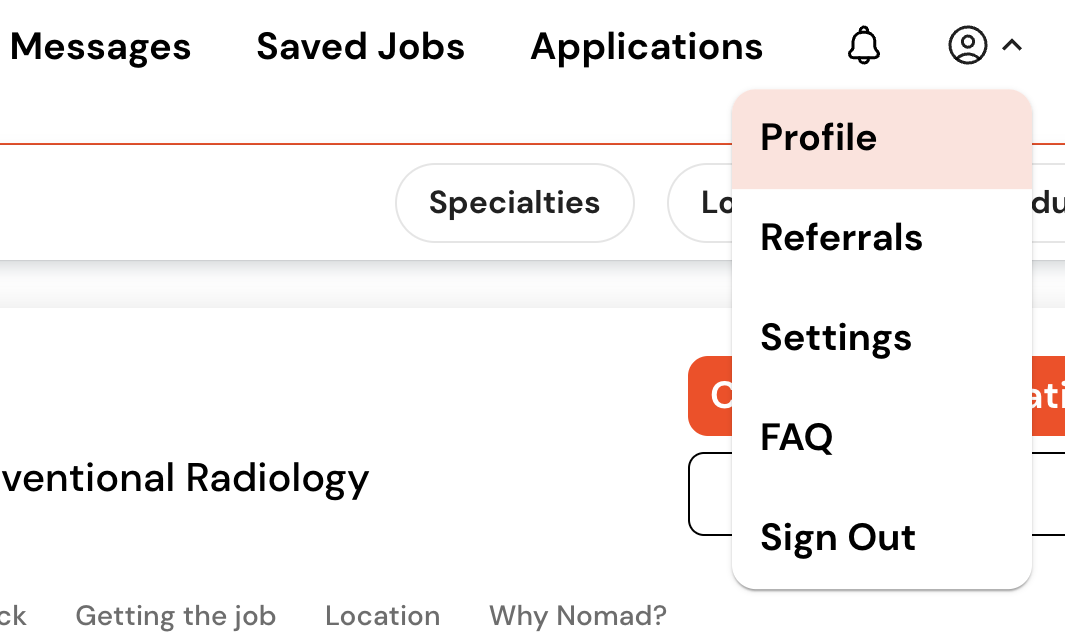 From there, you will be presented with a list of action items. This list includes:


Your Information: tax home address, background, and Social Security number
Credentials: EMR systems, certifications, licensure
Experience: the last seven years of your work history (at least) or all work experience since graduation
References: either creating a new reference or uploading previous reference forms
Documents: Covid and flu vaccines or declinations
Starting details: earliest availability and time off
Once you have completed entering this information, you can apply for Nomad travel clinician jobs in as little as one click!
You can also set up personalized job Preferences to find the perfect fit for your needs. By filling out your job Preferences, you can receive notifications whenever roles matching your interests are posted on our site, ensuring you never miss out on exciting opportunities.
How do I know if my profile is complete?
Incomplete and complete Profiles look like this: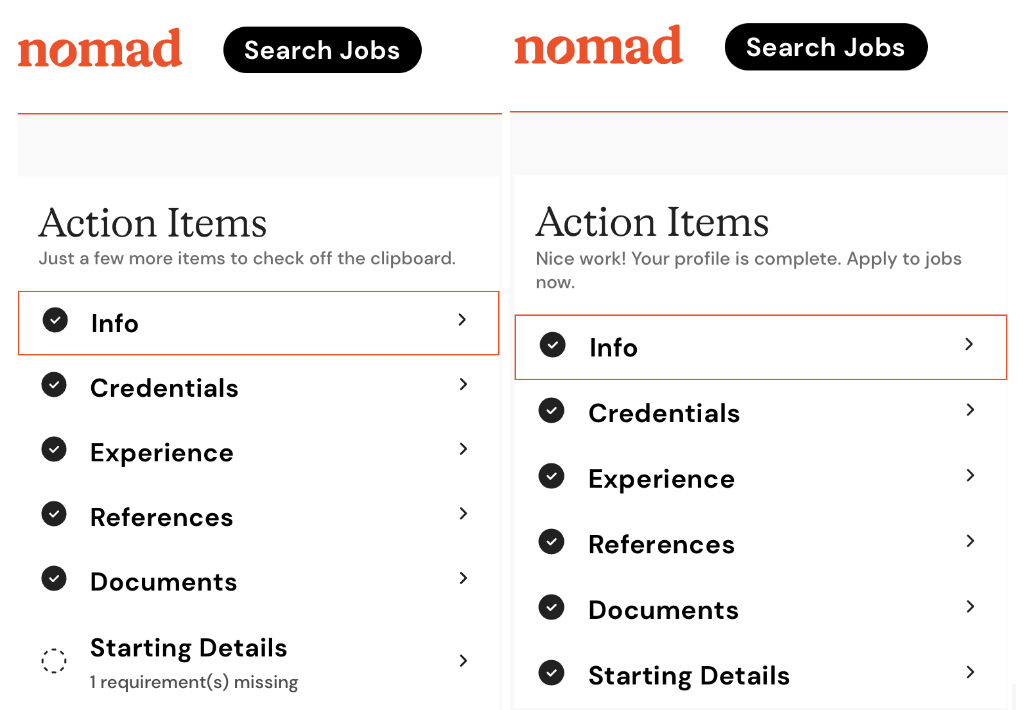 Once you complete your profile, each section under action items will have black checkmarks!
Can I add a resume instead?
To streamline our application process and provide you with a better experience, we do not accept traditional resumes. By filling out your Nomad Health Profile, you can apply for multiple positions quickly, as soon as they're posted with just one click.
Confirming your email
Once you confirm your email, you'll have the option to receive curated positions within your inbox based on your specialty and location preferences.
This will also allow us to easily connect with you and answer any questions you have about the application process or jobs you're interested in.
If you are having trouble confirming your email address, please don't hesitate to contact one of our knowledgeable Navigators.
Contact us
If you have questions related to this article or about traveling with Nomad Health in general, please contact us in one of the following ways:
We're here to support you in whatever way suits you best!